Suzanne Bearne talks to the entrepreneurs who are aping the success of Airbnb and Uber with their small business ventures
---
This article titled "The sharing economy: a money-making space made for startups" was written by Suzanne Bearne, for theguardian.com on Wednesday 8th April 2015 06.30 UTC
We're becoming a nation of renters. Instead of buying a car, savvy Brits hire one from Zipcar. Forget hoofing off to B&Q on a Sunday for a stepladder that we'll use once then confine to the loft, now we log on to Streetbank – a website that allows people to give away or lend goods to their neighbours.
This generation of savvy consumers has led to 47% of us renting or sharing goods and services, generating an average annual saving of £531.10 a person, according to a report by car-sharing service Zipcar [pdf].
This disruptive model, driven by the rise in technology, has made the sharing of assets easier than ever before, leading to a rise in the number of companies looking to facilitate this. We've seen the arrival of Airbnb and even businesses such as JustPark, which matches up car parking spaces with drivers.
"The behaviours of renting, swapping, and sharing aren't new, but the use of the internet and other technologies to enable them on a global scale is," says Greg Marsh, founder of onefinestay. His business is perhaps a more luxurious version of Airbnb, offering guests the chance to stay in chic homes across the world with prices ranging from £150 a night for a one-bedroom apartment to more than £3,000 for a grand townhouse.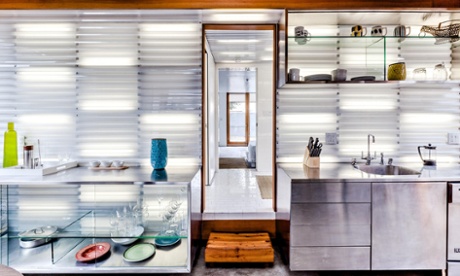 "Take accommodation as an example, people have always stayed at other people's homes – it's the oldest form of hospitality – but now a homeowner anywhere has a platform to market their home or spare room to travellers from all over the world."
Marsh's lightbulb moment came one evening in 2009, shortly after a holiday in Italy. "I was working at an investment firm and on my way home, walking along one of the most beautiful residential streets in London, it struck me that all of the lights were off. There was no one home.
"As I looked at those coveted townhouses with the lights off, it just seemed like a huge waste: the nicest places in the best cities stand empty, because their owners lack the time and inclination to offer them to guests while they are travelling themselves. So it was through my own frustrations that I realised there was a need for a service like onefinestay."
The wave of digital businesses involved in this model of collaborative consumption is growing and goes far beyond hotels. There are now businesses like Zopa and RateSetter, which match individual lenders and borrowers online, car sharing websites such as Liftshare and BlaBlaCar and clothing hire sites such as Girl Meets Dress, which lets women hire designer dresses for a fraction of the retail price.
Girl Meets Dress founder Anna Bancesays retail and consumer habits are changing significantly, both in terms of expectations but also in terms of value. "The growth in rental is testament to that change and also highlights consumers' growing preference for experience over ownership."
Alex Stephany, chief executive of JustPark, and author of recently published book, The Business of Sharing, which looks at the sharing economy, says creating efficiencies is at the core of many of these peer-to-peer marketplaces.
"They deal directly with the consumers, taking the cost and time out of the equation." He points to JustPark as an example, "we've put parking spaces that were not previously available into the marketplace, thereby creating extra efficiencies. Journeys become efficient for the driver as they're not driving around thinking 'Oh bollocks, I can't find somewhere to park', which creates car pollution."
But interestingly, he says one of the key things these companies create is social capital. "Take Airbnb. You might find a place to stay that's around half the price of a hotel but also it's giving you a social value – a unique experience."
Stephany shares the story of a JustPark first-time customer who felt a little nervous when she parked up at a house during the Olympics. "She did it, she said hello to the family who lived there and her kids ended up playing in the back garden of the people who own the house. So you've got this very banal everyday experience of parking a car, but you've created social capital."
In fact, creating a money-making business wasn't on the forefront of Rikke Rosenlund's mind when she set up BorrowMyDoggy. Rosenlund spent the day with Aston, a friend's dog, and enjoyed it so much she thought there needed to be a community set up for this. That day, after the long walk, she returned home and bought the domain name.
"I had so much fun that day with Aston that I set up a landing page to test out the idea and then put up a poster in the local park. Within three days 85 people had signed up. It attracted everyone from a student who grew up in a farm in Australia who missed his dog, to an old man who couldn't go for long walks anymore."
Rosenlund won't disclose financials but she says thousands of people sign up every week to BorrowMyDoggy, which costs a subscription fee of £9.99 a year to borrow a dog and £44.99 for owners. BorrowMyDoggy now employs 10 people from its office in Borough, London.
However, a lot of these services rely on trust and Marsh admits that garnering it is one of the one of the biggest challenges facing businesses involved in the sharing economy.
"When we engage in conversations with homeowners, we meet them in person. We go to visit them in their homes to get to know them. We also baked into our model from the beginning things like extensive insurance cover for all of our hosts (an industry first at the time), vetting our guests, and taking a pre-authorised security deposit on their credit card, in the same way as a car hire company does."
Many of the businesses wrapped up in the sharing economy haven't been without their other challenges. You just need to look at Airbnb and Uber, which have both faced legal and regulatory challenges from the authorities, about the way their respective services operate.
Still, despite these pressures, the sector is expected to boom. Research from PWC found that the sharing economy in the UK could be worth around bn (or £9bn) in 2025.
"I think we'll see more companies move into this space," says Rosenlund. "We have limited resources in the world, so why not share?"
Sign up to become a member of the Guardian Small Business Network here for more advice, insight and best practice direct to your inbox.
guardian.co.uk © Guardian News & Media Limited 2010
Published via the Guardian News Feed plugin for WordPress.